Sound Services for Film & Video
I work with film and video producers, directors and production companies providing location sound, studio post-production audio, and voiceover talent directing, resulting in the best possible sound for short films, feature-length movies and corporate projects.
The show reels below feature location sound, audio post-production, voice talent performing, VO directing and music editing. Audio and video post-production are handled through my production company, Cigma Media.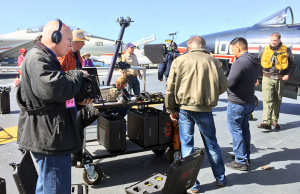 I believe sound is more than 50% of a film or video production.
Don't believe it? Try this…
While watching a film, close your eyes and listen to the sound for a moment. You'll almost instantly get a sense of the mood, tone, drama and emotion of the scene. Now, open your eyes and mute the sound. Sure, the pictures are vital for creating the mood and drama, but without great sound, the emotional subtext and impact of the scene can be difficult to determine. In most cases, you'll be able to follow the emotion of the story much better by listening to the sound than by only watching the pictures.
I specialize in making you sound great!
Pre- and Post-production audio is my specialty. I've been producing award-winning audio for television, radio and live performance since the early 1970's, picking up 11 Emmy's® and an assortment of other awards along the way. I've worked with broadcasters, live performance, film producers, professional speakers, specialty entertainers and corporate clients.
In the Studio:
With my digital studio (VoiceActing Studios, aka Cigma Media), I can handle just about any audio situation imaginable including: Voice track recording, ADR (automated dialog replacement), Foley, music scoring, music and sound effects editing, audio clean-up, and complete post-production for film and video. I also personally designed and engineered two television control rooms, a TV audio truck, supervised the sound installation for all meeting rooms for five major voiceover conventions and designed my own studio. I also handled sound design and mixing for numerous live television programs. How can I help with your studio sound?
On Location & On Set:
Location sound can happen anywhere and experience is a great teacher. With more than 50 years of experience, I've been fortunate to handle location sound mixing and studio recording for literally hundreds of television programs, live meetings and presentations, broadcast interviews, corporate videos, film production, music recordings and radio & television commercials. How can I help with your location sound?
Planning is Important:
It's my goal to provide you with great sound, whether it's for a company presentation, a training video, a documentary or a feature film. In order to achieve that, I highly recommend bringing me into your production process as early as possible. I'll often be able to save you time, energy and money by understanding the audio needs of your project before the shoot is scheduled.
Best Rate Guarantee:
Everyone wants the best deal they can get and I'm willing to make deals – so long as they don't sacrifice quality. To that end I will match any legitimate quote from any qualified mixer with the same or similar gear for the same job. I will also be happy to discuss your specific needs for combined packages or multi-day bookings that may result in a considerable discount.
Book James Alburger Today
+1 858.484.0220
jralburger@voiceacting.com